An almost simple bread recipe with just a few extras added. Potato flour for some moisture retention and flavor, and little malt because it just makes everything taste wonderful. Look at your favorite fancy bread you buy from a bakery and 9 times out of 10 it's going to have some sort of barley in it. Maybe I exaggerate, but seriously, malt goes in most of my breads. It's an option that can be left out if preferred.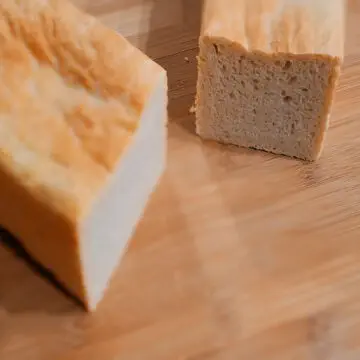 Glorified Sandwich Bread
What is glorified? It ain't just flour only. The additional potato flour and malt really enhance the flavor of this bread. It isn't as resistant to molding like sourdough, but has no dairy in it so it will still last longer than most breads. It also has no added sugar.
It fits a 16" square bread pan or 12" wide tapered pan, or bake on a cookie sheet with parchment paper. This recipe makes

2.2

-

2.5

lbs. of bread.
Equipment
Bread Machine

1 Mixing Bowl

Mixing Spoon

Small Wire Strainer, Stainless

Measuring Cups

Measuring Spoons

16" Squared Bread Pan

Cooling Rack

Cheesecloth
Ingredients
1¼

C

Water

4¼

C

Bread Flour

¼

C

Gluten Powder - Optional - If your flour is gluten wimpy then add this option. I like the dough to stretch well.

1

Tbsp.

Salt -

Iodized or sea salt is a good option.

2

Tbsp.

Non-diastic Malt Powder - Optional - (non-diastic, non-sugar) I add the malt to the oil to avoid clumping. If you need to warm the oil to make it liquid, don't let it get hot or the malt will harden. Done that. Malt powder can be very sticky at times.*

1

Tbsp.

Yeast -

Fast acting bread yeast is what I like to use.

¼

C

Coconut Oil - Refined Coconut Oil, Olive Oil, Vegetable Oil, Etc. Any quality cooking oil. Beef tallow or leafback pig fat lard works too.
Instructions
If you're using a bread machine on a delayed timer don't add the yeast yet. First put the wet ingredients into the machine pan, put the dry ingredients on top, and place the yeast in a pile onto the driest, top most portion.

If your using a bread machine and ready to run it now, put it all in and let 'er go.

Hand Mixing:

In a mixing bowl, mix 2C of the bread flour with all of the other dry ingredients (But not the malt, add the malt to the oil to avoid clumping). Now add the water, then the combined oil/malt and mix it. Add the remaining flour and mix it into a dough ball. Kneed for 12 to 20 minutes on a clean counter or silicone mat.

Machines:

If you're using a mixer then put the 2C of flour with the other dry ingredients, add the water and oil, and mix on low speed while adding the remaining flour by ½C increments. (Add the malt to the oil to avoid clumping)

Hand mixing example video, NOT kneeded. (This is a pre-mix, the dough still has to be kneeded after this example.)

Depending on whether you knead your dough using a mixer, food processor†, or by hand, the time it takes to mix will vary. Typically

20

minutes.

Don't over-knead your dough. If the Dough starts to get softer and stickier, loosing it's stiffness, the gluten might be beginning to break down. STOP!

When the dough is at the proper consistency you should be able to take a teaspoon sized pinch and stretch into a semi-transparent window, allowing light to be seen through it. The window area should be more than an inch wide and not break open.

Roll you dough out and let it rest for

20

minutes. (Unless your a bread machine person. I like to mix in a bread machine but cook it in a 16" square bread pan. )

Use this time to prep your pan. (Oil/Flour greased, Parchment paper, etc.)

Shape your dough and place into your pan of choice. It should take about

4

hrs. to rise.Pictured in a 16" bread pan

Preheat your oven to 350° or 325° in a convection oven.

Place the pan in the center-most part of the oven and bake for 23 to

25

minutes. Your crust should be light to medium brown and the loaf should sound hollow when lightly tapped with a finger tip (be careful if it's hot) or the rounded end of a wooden spoon.

Remove your loaf from the oven and pan, placing it on a cooling rack with a cheesecloth over it. Let it cool for

30

minutes. It helps sometimes to turn a sandwich loaf onto it's side to cut it. If it looks like it's smashing the loaf when you cut, either the bread is too hot still or the knife is too dull.
Notes
* It helps to sift the malt through a wire mesh strainer if it is clumping up from moisture retention.

For a crisper crust place an oven safe bowl, pan, or pot of water in the oven prior to preheating. 2 or 3 cups should do it.

†  There are not many food processors that will mix bread dough. If it has an insert with paddles it might work. Be oh so wise!
Nutrition
Serving –
1
Slice
Calories –
106.4
kcal
Carbohydrates –
18
g
Protein –
3.6
g
Fat –
2.2
g
Saturated Fat –
1.6
g
Polyunsaturated Fat –
0.1
g
Monounsaturated Fat –
0.1
g
Sodium –
194.2
mg
Potassium –
56.6
mg
Fiber –
1
g
Sugar –
0.2
g
Vitamin A –
0.6
IU
Vitamin B1 –
0.1
mg
Vitamin B2 –
0.1
mg
Vitamin B3 –
0.5
mg
Vitamin B5 –
0.2
mg
Vitamin B6 –
0.1
mg
Vitamin C –
0.1
mg
Vitamin E –
0.1
mg
Vitamin K –
0.1
µg
Calcium –
7
mg
Copper –
0.1
mg
Folate –
19.3
µg
Iron –
0.4
mg
Manganese –
0.2
mg
Magnesium –
9.9
mg
Phosphorus –
37.5
mg
Selenium –
8.8
µg
Zinc –
0.3
mg
Net Carbs –
17
g
Fabulous Farmhouse Sourdough Bread
Makes a very moist and fluffy sourdough sandwich bread. This recipe makes

2.2

-

2.5

lbs. of bread. Very resistant to molding. Fits a 16" square bread pan or 12" wide tapered pan, or bake on a cookie sheet with parchment paper.
You'll LOVE this recipe also