This gluten-free flour blend for deserts and pastries is much better than anything you can buy in a pre-mixed, off-the-shelve flour.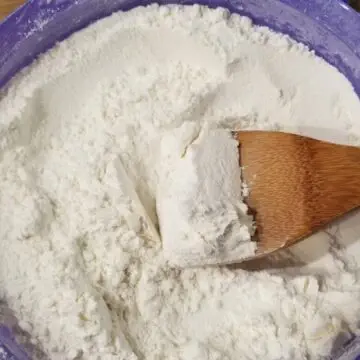 Kim's All-Purpose Gluten Free Flour Blend
Equipment
Mixing Bowl

Measuring Cups

Kitchen Scale
Ingredients
336

g

Superfine white rice flour

126

g

Cornstarch

-

Substitute arrowroot starch for corn free

105

g

Tapioca starch 105 grams

98

g

Nonfat dry milk powder

-

Substitute coconut milk powder or soy milk powder for dairy free

21

g

Potato starch

14

g

Xanthan gum
Instructions
Put ingredients into a container with an tight lid and do the hokey pokey, or just shake it until well blended. Make sure you have plenty of air space in the bowl so that it actually mixes. Alternatively, you could mix this in a food processor or blender.
Notes
My oldest daughter has digestive problems with gluten and found this gluten free website. We've decided that Kim has the best gluten free flour mixes on the web, and since my wife likes these gluten free blends also, I put Kim's recipes here to calculate the nutrients for my lovely wife.
Makes

5

Cups
Nutrition
Serving –
1
c
Calories –
507.2
kcal
Carbohydrates –
111
g
Protein –
11.4
g
Fat –
1.1
g
Saturated Fat –
0.4
g
Cholesterol –
3.9
mg
Sodium –
190.3
mg
Potassium –
453.8
mg
Fiber –
4.2
g
Sugar –
10.4
g
Vitamin A –
427.1
IU
Vitamin B1 –
0.2
mg
Vitamin B2 –
0.3
mg
Vitamin B3 –
2.1
mg
Vitamin B5 –
1.3
mg
Vitamin B6 –
0.4
mg
Vitamin B12 –
0.8
µg
Vitamin C –
1.3
mg
Vitamin D –
2.2
µg
Vitamin E –
0.1
mg
Calcium –
255.8
mg
Copper –
0.1
mg
Folate –
13.5
µg
Iron –
0.7
mg
Manganese –
0.8
mg
Magnesium –
47.8
mg
Phosphorus –
276.1
mg
Selenium –
16.2
µg
Zinc –
1.3
mg
Net Carbs –
106.8
g