This Focaccia is a great dipping bread with extra virgin olive oil and salt. I'm a fan of Balsamic vinegar so that's what I mix with the olive oil. Add toppings to it like black or green olives, rosemary or sage, or sprinkle some parmesan cheese on at the last 5 minutes of bake time. Use it as a pizza crust by just placing your ingredients on top or by slicing it wide open to make two pizzas. When it's fresh out of the oven and still warm, it's awesome just by itself. I like it with Besto Pesto also.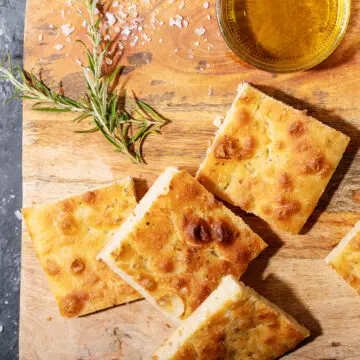 Outstanding Olive Oil Focaccia
Focaccia is probably my favorite bread. The olive oil gives it a savory, rich flavor. This Focaccia recipe lays in the pan nicely and when sliced through the side it makes a great sandwich.
Equipment
Mixing Bowl

Mixing Spoon

Measuring Cups

Measuring Spoons

Sheet Pan
Ingredients
1

C.

Whey or Water

-

120 °F

1

C.

Whole Milk

- 120 °F. Sometimes I substitute

1

C of heavy cream

¼

C.

Extra Virgin Olive Oil -

Extra Virgin. I like a little more.

1

Tbsp.

Sea Salt -

Himalayan or plain works too.

1

Tbsp.

Yeast -

Fast rising will make the time to complete about 6 hrs.

4

C.

Bread Flour

-

4½

C if you don't have the Gluten Powder/Flour.

½

C.

Gluten Powder -

Optional

2

tsp.

Non-diastic Malt Powder -

Optional
Instructions
Put half of your flour (

2

C), salt, and yeast into a large mixing bowl and add the liquids warmed tp 120 °F. Stir just until barely mixed, then add the remaining flour ½ cup at a time, mixing it in each time.

The proper consistency of the dough should come off of the sides of the bowl but stick to the bottom some. This dough doesn't need to be thoroughly mixed or kneaded, just to the point it's all blended and done.

If you don't have gluten flour just add

½

cups of flour to balance the liquids.Substitute

¼

C wheat flour with potato flour for a slightly softer bread.

Allow the bread to rise and double in size.

Then turn it out, divide it or leave it whole, and shape it. I like to use parchment paper and also put some olive oil on it. Place the shaped loaf onto the pan.

Let it rise again to double size. Lightly coat the top with olive oil when it's almost doubled. Try not to degas it.

You can also drizzle the olive oil if you like. Just lightly and evenly across the top of the loaf. Crisscrossing a little helps.

Preheat oven to

350

°F

then place it in the top rack of your oven for 25 minutes. 325 °F if using a convection oven.
Notes
Put it on a cooling rack, covered with a light cheese cloth. It cools off in about 10 minutes or less because it is thin. Dip it in Olive Oil, add some Balsamic Vinegar. Makes a great pizza too. Prego!
Nutrition
Serving –
100
g
Calories –
287.7
kcal
Carbohydrates –
45.5
g
Protein –
13.6
g
Fat –
5.4
g
Saturated Fat –
1
g
Polyunsaturated Fat –
0.9
g
Monounsaturated Fat –
2.9
g
Cholesterol –
1.8
mg
Sodium –
368.3
mg
Potassium –
99
mg
Fiber –
1.8
g
Sugar –
0.9
g
Vitamin A –
25.3
IU
Vitamin B1 –
0.2
mg
Vitamin B2 –
0.1
mg
Vitamin B3 –
1
mg
Vitamin B5 –
0.4
mg
Vitamin B6 –
0.05
mg
Vitamin B12 –
0.1
µg
Vitamin C –
0.01
mg
Vitamin D –
0.2
µg
Vitamin E –
0.8
mg
Vitamin K –
2.5
µg
Calcium –
38.8
mg
Copper –
0.1
mg
Folate –
41.4
µg
Iron –
1
mg
Manganese –
0.5
mg
Magnesium –
19.7
mg
Phosphorus –
99.3
mg
Selenium –
27
µg
Zinc –
0.7
mg
Net Carbs –
43.7
g