For certain, pesto is the besto and the perfect recipe for pesto makes it even better. Pesto is a straight forward recipe, but it's the subtle adjustments that take it from great to extraordinary. Like the use of fresh basil, high quality pine nuts, the addition of a saltier stronger flavored cheese like Romano with the Parmesan, an extra virgin olive oil that isn't bitter, savory sea salt, and a touch of lemon juice to brighten up the taste and help keep it fresh longer. NO JUNK!
I wish basil wasn't so seasonal. I can grow it indoors in the winter but it's slow to grow unless you put it under grow lights and I'm not going to set up an indoor garden. Grocery stores don't always have it and it can be expensive. The cost of basil and pine nuts can really drive up the cost of this recipe. If you know you like pesto and you're going to use it often there are things you can do to ease the cost.
Purchase your pine nuts in large quantities. Keep them in the freezer to prevent them from going rancid. (Costco has a good price; good quality.)
Buy two or three basil plants and place them in a well watered, well draining soil in a very sunny place in your yard. More is better, you can always give some to family and friends.
Roasted Garlic Paste
Glorious slow roasted garlic made into an easy to use paste. Add it instantly to any recipe that calls for garlic instead of peeling and dicing or pressing. It just tastes better. Works in soups and other sauces to enrich and enliven the flavor.
You'll LOVE this recipe also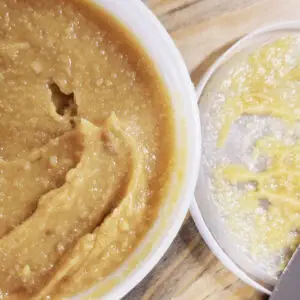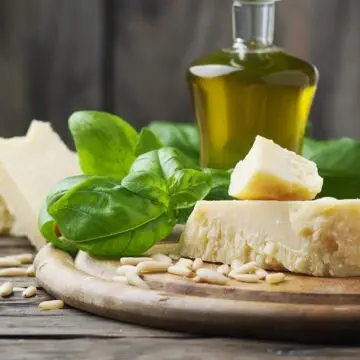 Perfect Pesto
Or Besto Pesto (Can't decide)
Real Pesto is Pine Nuts only. No Cashews, no Walnuts. Only the best ingredients makes the best Pesto. If you're looking for the perfect Pesto, this is it. Pine Nuts, Extra Virgin Olive Oil, Fresh Basil, and other natural ingredients.
Equipment
Liquid Measuring Cup

Measuring Cups

Measuring Spoons
Ingredients
1

C

Pine Nuts (Pinyon) -

(Keep them in the freezer to preserve them)

1 ½

C

Fresh Basil

-

(Coarsely chopped, loosely packed, or a large cereal bowl full of whole leaves (rounded). A little more if that's your preference)

½

C

Extra Virgin Olive Oil

-

(Maybe a little more if needed)

1

Tbsp

Lemon Juice or Citric Acid granules - (Usually

¼

tsp =

1

Tbsp of lemon juice)

2

cloves

Garlic

- (

1

Tbsp. Roasted garlic is a good option to the flavor)

¼

C

Romano

- (I like an

⅛

cup of both Parmesan and Romano. Romano is better flavored to me, but also saltier)

½

Tbsp

Sea Salt - (Or Himalayan pink salt. Less if you think salt is poisonous)
Instructions
Add the nuts first, then add olive oil almost to the top. Blend to a chunky texture, then start adding the basil in, a handful at a time (all if your processor has the capacity), and blend to medium coarse texture.

(Don't let it get creamy)

(At this time, adding a little more olive oil or all of the olive oil helps in some blenders)
Notes
Don't let it get creamy by over blending the nuts!
Don't over blend the cheese either.
If you seem to have too much olive oil just add a table spoon each of the pine nuts and basil at a time and blend in a short cycle. 5 - 10 seconds, depending on your food processor.
Nutrition
Serving –
1
Tbsp
Calories –
61.9
kcal
Carbohydrates –
0.7
g
Protein –
0.9
g
Fat –
6.5
g
Saturated Fat –
0.8
g
Cholesterol –
0.8
mg
Sodium –
118.6
mg
Potassium –
28.5
mg
Fiber –
0.2
g
Sugar –
0.2
g
Vitamin A –
62.6
IU
Vitamin B1 –
0.1
mg
Vitamin B2 –
0.1
mg
Vitamin B3 –
0.2
mg
Vitamin B5 –
0.1
mg
Vitamin B6 –
0.1
mg
Vitamin B12 –
0.1
µg
Vitamin C –
0.5
mg
Vitamin E –
0.9
mg
Vitamin K –
9
µg
Calcium –
11.3
mg
Copper –
0.1
mg
Folate –
2.2
µg
Iron –
0.3
mg
Manganese –
0.4
mg
Magnesium –
11.6
mg
Phosphorus –
30.8
mg
Selenium –
0.2
µg
Zinc –
0.3
mg
Net Carbs –
0.5
g