Face it, Chorizo from the store is, meh. Usually less than mediocre. So, this recipe is the results of a spiritual quest for a chorizo that was spiritually uplifting rather than palate oppressive. With very little effort you can make your breakfast shine. Other dishes too. Stick some in the freezer so it's ready when you need it.
Try the Roasted Garlic Paste in it instead of the fresh cloves.
Roasted Garlic Paste
Glorious slow roasted garlic made into an easy to use paste. Add it instantly to any recipe that calls for garlic instead of peeling and dicing or pressing. It just tastes better. Works in soups and other sauces to enrich and enliven the flavor.
You'll LOVE this recipe also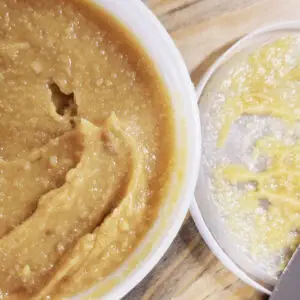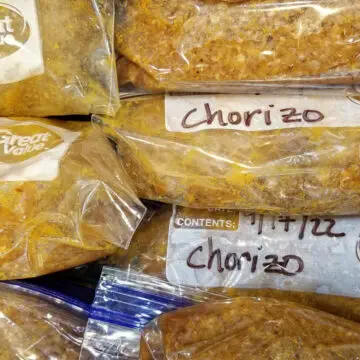 Homemade Pork n Beef Chorizo
Chorizo is not just for breakfast anymore. Use it in other recipies instead of just ground beef, like in homemade chili.
Equipment
Food Prep Gloves

Optional

Large mixing bowl

Large spoon

Ziplock freezer bags

1qt or smaller
Ingredients
2

lbs

Ground pork shoulder

-

look for one that is well marbled with fat

2

lbs

Ground beef

-

Not lean

2

White onions

-

Chopped

6

cloves

Garlic - Smashed, or use 2 Tbs. of the Roasted Garlic

1

C

Apple cider vinegar

¼

C

New Mexico ground chili powder

¼

C

Paprika

- Alternative Option:

2 Tbs. Regular Paprika and 2 Tbs. Smoked Paprika

¼

C

Chili Powder

2

Tbs

Ground cumin

2

Tbs

Ground coriander

2

Tbs

Mexican oregano

2

Tbs

Kosher salt

2

tsp

Crushed red pepper flakes

1

tsp

Fresh cracked black pepper
Instructions
Combine everything, except the two meats, into a food processor. Process until well combined into a smooth, thick sauce.

2 White onions,

6 cloves Garlic,

1 C Apple cider vinegar,

¼ C New Mexico ground chili powder,

¼ C Paprika,

2 Tbs Ground cumin,

2 Tbs Ground coriander,

2 Tbs Mexican oregano,

2 Tbs Kosher salt,

2 tsp Crushed red pepper flakes,

1 tsp Fresh cracked black pepper

Place the ground meats in a large bowl and add the sauce. Using your hands, mix until thoroughly combined. (Food prep gloves are a good idea for this.)

2 lbs Ground pork shoulder,

2 lbs Ground beef

Spoon usable portions into labeled zipper top baggies, by ½ pound (approx 1 cup). Refrigerate for 8 hrs. before using, but up to 3 days can be done. It allows the meats to soak up the flavor of the spices.

You can freeze unused portions for up to 6 months. Vacuum sealers will allow freezing for much longer.
Notes
You can use all beef or just pork if you wish, it doesn't have to be a mixed bag. We like the mixed meats in our chorizo though.
Nutrition
Serving –
57
g
Calories –
270.5
kcal
Carbohydrates –
6.2
g
Protein –
17.3
g
Fat –
19.9
g
Saturated Fat –
7.4
g
Polyunsaturated Fat –
1.9
g
Monounsaturated Fat –
8.6
g
Cholesterol –
63
mg
Sodium –
955
mg
Potassium –
478.8
mg
Fiber –
3.2
g
Sugar –
1.2
g
Vitamin A –
2139.7
IU
Vitamin B1 –
0.4
mg
Vitamin B2 –
0.3
mg
Vitamin B3 –
5
mg
Vitamin B5 –
0.6
mg
Vitamin B6 –
0.5
mg
Vitamin B12 –
1.4
µg
Vitamin C –
6
mg
Vitamin E –
2.8
mg
Vitamin K –
11.1
µg
Calcium –
58.8
mg
Copper –
0.2
mg
Folate –
12.7
µg
Iron –
3.4
mg
Manganese –
0.3
mg
Magnesium –
37.3
mg
Phosphorus –
195.2
mg
Selenium –
21.7
µg
Zinc –
3.6
mg
Net Carbs –
3
g