When I first made roasted garlic it was just basic, meaning just roasted and nothing added. I came to the conclusion that if I made a larger batch I could store it, make it less often, and use it more often. But things tend to mold, so I added the salt, lemon, and olive oil to keep it from spoiling and it worked out very well. It also improved the flavor so it was a win, win. I'm sure you'll make this a permanent fixture to your refrigerator as I have. I use it in everything but ice cream.
Perfect Pesto
Or Besto Pesto (Can't decide)
Real Pesto is Pine Nuts only. No Cashews, no Walnuts. Only the best ingredients makes the best Pesto. If you're looking for the perfect Pesto, this is it. Pine Nuts, Extra Virgin Olive Oil, Fresh Basil, and other natural ingredients.
You'll LOVE this recipe also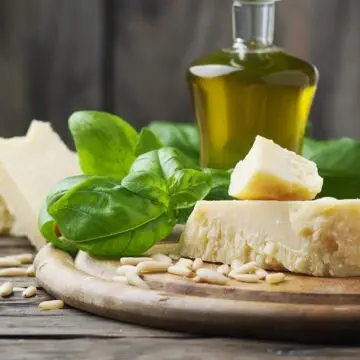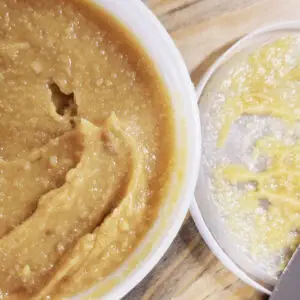 Roasted Garlic Paste
Glorious slow roasted garlic made into an easy to use paste. Add it instantly to any recipe that calls for garlic instead of peeling and dicing or pressing. It just tastes better. Works in soups and other sauces to enrich and enliven the flavor.
Equipment
Measuring Cups

Measuring Spoons

Glass Baking Dish

Aluminum Foil
Instructions
Prep The Garlic And Roast It
Using a very sharp knife, cut the root side off of your garlic bulbs at about ½" into the bulb.

Drizzle some olive oil into the bottom of your baking dish and spread it around a little. Place the body side of the bulbs with the cut side facing down into the baking dish and drizzle some additional olive oil on the bulbs. Focus your olive oil spout over the top center of each bulb and pour oil into the frayed garlic paper ends.

Place aluminium foil over the baking dish and seal the edges. Place in the center of your oven and roast for

70 minutes

at 300° F. If you know your ovens behavior well then adjust your temperature and time as needed.

The garlic color will change from an off white color to a light tan when it's done. If the color turned brown then it's over cooked, but don't frown, it's still very usable and still tastes good. You might even like it this way more than the lightly roasted.
Blend The Ingredients
You can use a butter knife to pop the garlic from the root bottoms and the tops only need squished a little and it comes right out. (You can always opt to not cook and use the bottoms. They can be a hassle to work with and might not be worth the aggravation.)

In your food processor, put the garlic in first, then add the olive oil, salt, and lemon juice/citric acid. Blend it until it looks creamy smooth.

Place your roasted garlic sauce into containers and refrigerate. You can also put it in freezer safe containers and remember to date them.
Video
Notes
This is my go-to garlic source. I use this stuff in everything that has garlic in the recipe. You'll find that almost all of the recipes that I make calls for roasted garlic if there is garlic in it. I always keep this in the fridge and recommend that everyone keep this on hand for a better tasting time saver.
†It's easier to squish the cloves out of jumbo garlic, the yield is also higher with much less work involved. If the garlic is too old it will fall apart as you cut it, no fun.
Nutrition
Serving –
1
tsp
Calories –
10.9
kcal
Carbohydrates –
1.5
g
Protein –
0.3
g
Fat –
0.5
g
Saturated Fat –
0.1
g
Polyunsaturated Fat –
0.1
g
Monounsaturated Fat –
0.3
g
Sodium –
39.5
mg
Potassium –
18.3
mg
Fiber –
0.1
g
Sugar –
0.05
g
Vitamin A –
0.4
IU
Vitamin B1 –
0.01
mg
Vitamin B2 –
0.01
mg
Vitamin B3 –
0.03
mg
Vitamin B5 –
0.03
mg
Vitamin B6 –
0.1
mg
Vitamin C –
1.5
mg
Vitamin E –
0.1
mg
Vitamin K –
0.4
µg
Calcium –
8.2
mg
Copper –
0.01
mg
Folate –
0.2
µg
Iron –
0.1
mg
Manganese –
0.1
mg
Magnesium –
1.1
mg
Phosphorus –
6.9
mg
Selenium –
0.6
µg
Zinc –
0.1
mg
Net Carbs –
1.4
g